Suspended Future
Linking non-highway safety offenses to license suspension burdens government agencies and, in particular, young drivers
  |  
March 2019
  |  
Tim is a senior at a local high school. He went through driver's education as a junior, and since receiving his license, he has been working at a fast-food restaurant to make some much-needed cash for himself and his family. While he has a perfect driving record, one day he receives a notice that his driver's license has been suspended because he has missed too many days of school. Needing the money from his job and lacking the savings to pay the fine to get his license back, he continues driving anyway. On his way to work he gets pulled over for speeding and now what was just a fine has turned into a much larger problem.
Although Tim's case is just a hypothetical example, stories like this are common across North America. License suspensions for non-highway-safety-related offenses—which can include truancy, school performance, drug possession and failure to pay child support or other debts—account for 39 percent of all suspensions and 75 percent of those suspended drivers continue driving anyway.
Falling Behind
Any person can fall into a similar pattern, however, license suspension for non-highway-safety-related offenses has a particularly negative effect on young people, especially those who are low-income or minorities.
"It can be a never-ending cycle," says April Rai, member of AAMVA's Suspended Driver Alternative Reinstatement Working Group and CEO of the National Organizations for Youth Safety. "It disproportionally affects people with low incomes and minority groups because they are often unable to take care of the fines, or secure transportation to get to the place where they can take care of the fines."
As part of the Working Group, Rai helped put together a recently-released AAMVA Best Practices guide, Reducing Suspended Drivers and Alternative Reinstatement, which updates a previous 2013 guide and adds a new focus on the experiences of young drivers. Rai explains that license suspension issues can end up pushing young people to more extreme situations.
"It really can cause a snowball effect because, for that person, what is the alternative?" she asks. "What they turn to in order to make ends meet could be something illegal. While the goal [of the legislation] is to reduce recidivism, it can, in some cases, cause a citizen to have multiple layers of issues with law enforcement and other state agencies."
Kurt Myers, Deputy Secretary of the Pennsylvania Department of Transportation for the past 12 years and a former Chair of the AAMVA Board of Directors, has seen this problem affect young people in his jurisdiction firsthand.
"It has a definite impact on individuals, especially young people," says Myers. "That's been a concern of mine because it's our responsibility to ensure safety, but there's also another part of the equation—it's incumbent upon us to do everything we can to help individuals get their license back—or get it in the first place—to help them become productive members of society."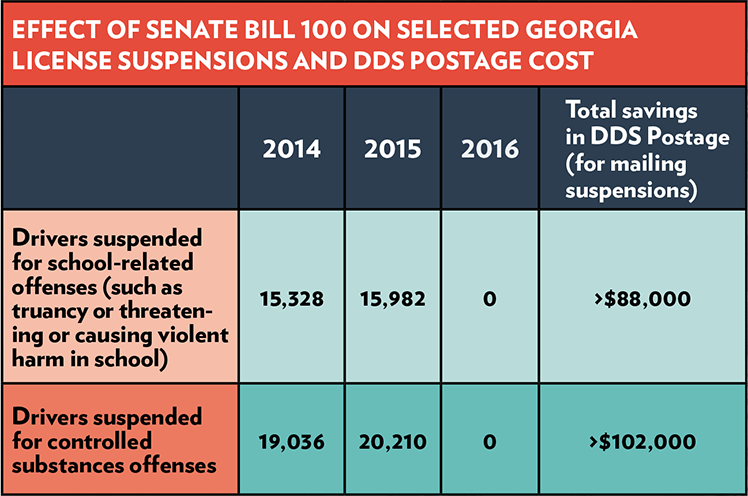 The Bottom Line
In Pennsylvania, Myers has been part of multiagency effort to eliminate a number of non-highway-safety-related license suspension offenses. Pennsylvania General Assembly 2018 Act 95, which was signed into law in October 2018, ends license suspensions for offenses including: sale of tobacco to a minor; misrepresentation of age; purchase, consumption, or transportation of liquor by an individual under age 21; and simple possession and possession with intent to deliver, among others.
Myers explains that getting to this point required interest and cooperation from many Pennsylvania agencies, including top Pennsylvania policymakers. He says that the 2013 release of AAMVA's Best Practices Guide to Reducing Suspended Drivers also helped to bring the issue to the forefront and provided necessary background on the topic.
When making the case for Act 95, Myers found that there were two main arguments.
"One is about quality of life," he says. "While we all know driver's licenses are a privilege, we also know it is a really important part of our everyday life. And for our younger generation, it's important to ensure they get a good start. In addition to that, we also had the impact of non-highway-safety-related suspensions on law enforcement, the courts and the DMV."
When Act 95 goes into effect later this year, Myers expects to see improvements in suspension issues for drivers and savings across many state agencies. Spencer R. Moore, Commissioner of the Georgia Department of Driver Services (DDS), saw a similar act passed in his jurisdiction—Senate Bill 100, which was passed on July 1, 2015—and the impact was staggering.
Moore explains that in the first year the act was in effect, the Georgia DDS saved almost $200,000 solely in postage on just two categories of license suspensions: school-related and controlled substance-related suspensions.
"That's just postage and printing alone and doesn't include the amount of staff time that goes into it," says Moore. "These are minimal savings compared to how that affects the overall criminal justice systems. You can imagine the police or court time that comes with 20,000 violations that no longer have to be processed."
Protecting
the Future
Beyond the financial impact of reducing non-highway-safety-related license suspensions, Moore, like Myers, sees the impact to Georgia citizens as just as, if not more, important as the money saved.
"In our state, we have had great success in getting folks' lives back on track and making them more productive citizens."
In addition to doing this through legislation, the Georgia DDS has also partnered with the Georgia Department of Corrections on driver's license reinstatement programs that proactively help eligible offenders get licenses or identification cards so that when they are ready to get a job, they have what they need to become productive. Another example of this type of proactive action is a Pauper's affidavit, which people who meet federal poverty guidelines in Georgia can apply for to reduce the fees they have to pay for license reinstatement.
"We looked at different states that successfully implemented alternative reinstatement programs with measurable results," says Rai. "In Florida there was a program that was related to youth with non-serious misdemeanor offenses and the program allows them to do community service and monitors their progress in school. The recidivism rate for young people in this program was 4 percent compared to 42 percent in a residential program."
Rai also points to a prevention program in Massachusetts that targeted drivers between the ages of 15 and 24 years old for training and created an 83 percent reduction in minor traffic violations among participants over a span of three years. She says programs like this are proof that, if given the tools to succeed, most people, especially young people, will take advantage of them.
"There will always be young people who have more trouble, but the majority of them really want to do the right thing," says Rai. "Given the right information, opportunity and proper reinforcement, they will enter adulthood as a strong and more well-balanced adult, instead of feeling like they're starting from behind."