Passing the Torch
Chrissy Nizer welcomes Kristina Boardman to the role of chair of the board
  |  
September 2022
  |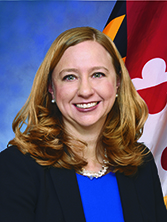 My journey as AAMVA chair started in a unique way—from my office chair in Maryland over a Zoom call. Here we are, a year later, back to in-person meetings and continuing our work on customer service and highway safety.
It has been a great year, but not without challenges, as we deal with the lingering effects of the pandemic. In my incoming message, I mentioned the words "resilience" and "reimagination" to describe the strength of this community throughout all the challenges we have faced. As I complete my year as chair, my appreciation for the AAMVA community is stronger than ever. It has been my honor to meet with many of you to establish new friendships, learn about your programs and build upon long-term friendships. The work you do every day to serve your residents is important, and I hope you share the pride I have in how far we have come as a community. Our progress will only continue with the many initiatives, projects and strong leadership within AAMVA and our associate members.
As we look forward, there are many exciting developments, including the Digital Trust Service and the important leadership role AAMVA can play in digital identity. While each jurisdiction is at a different point in their development efforts, we all share the common goal of protecting the integrity of our customers' data and ensuring they have the tools they need to manage their identity.
Congratulations to our incoming chair Kristina Boardman. I have learned so much from Kristina and the AAMVA community will only continue to grow under her leadership. I also need to thank our talented AAMVA International Board of Directors, Anne, and the AAMVA staff. Working together, you have helped me challenge the status quo and continue to move this organization forward.
It has been an incredible honor to serve as your chair. I am so grateful for your support, suggestions, enthusiasm and ideas. I encourage all of you to actively participate in AAMVA. With the contributions of all our members, I am excited about the future of AAMVA. — Chrissy Nizer
Fun fact: I attended my first AAMVA event in 2007, the year of the first iPhone. As a newcomer to the motor vehicle community, I was immediately struck by the supportive and cooperative atmosphere of public employees, vendors and AAMVA staff who consistently focused on serving the public, protecting highway safety and improving the delivery of quality products and services. In my new role, it was reassuring to know I had a community of colleagues throughout North America to call on for support and assistance.
Fifteen years (plus a few jobs and phones) later, I remain committed to AAMVA and its members as I take on the new leadership role as chair for this upcoming year.
This annual change comes on the heels of some of the most challenging years in memory. We forged through several unknowns and fortified the supportive and cooperative spirit of AAMVA and its members. Chrissy's guidance expanded our learning, reconnecting and continued collaborative successes. We are using the lessons of the pandemic to create a framework on emergency preparedness. We harnessed technology and held the first ever topic-specific "pop-up" meeting on mobile driver's license (mDL) issues. Through engaging dialog, we learned about the Digital Trust Service, based on the most recent mDL standard, for cross-jurisdictional interoperability. Chrissy has also continued to lead discussions on the State to State (S2S) Verification Service to support the tenets of the Drivers License Compact. Thank you, Chrissy, for your thoughtful approach to move our community forward.
The needs of our jurisdictions and businesses continue to evolve and so must AAMVA. Members took the time this past year to share candid feedback on what adjustments may be needed to AAMVA's Strategic Framework as we chart the path for the next five years. The strategic priorities of Member-Driver Solutions, Culture of Excellence, Technology Management and Fiscal Integrity remain evergreen, but the goals and targeted outcomes to enhance the value offered to our members will be updated based on your collective input. Thank you for your honest responses.
As I look to the year ahead, I set this challenge: Let's prioritize and reverse the trend toward increased highway fatalities. Together, through established channels—cultivating relationships with state highway safety offices; implementing S2S Driver History Record functionality; using the AAMVA reports and tools available to improve our local processes; and remaining engaged in sharing new ideas and programmatic changes—we will directly impact safety on our roads.
I welcome the opportunity to work with all of you in moving us forward. — Kristina Boardman